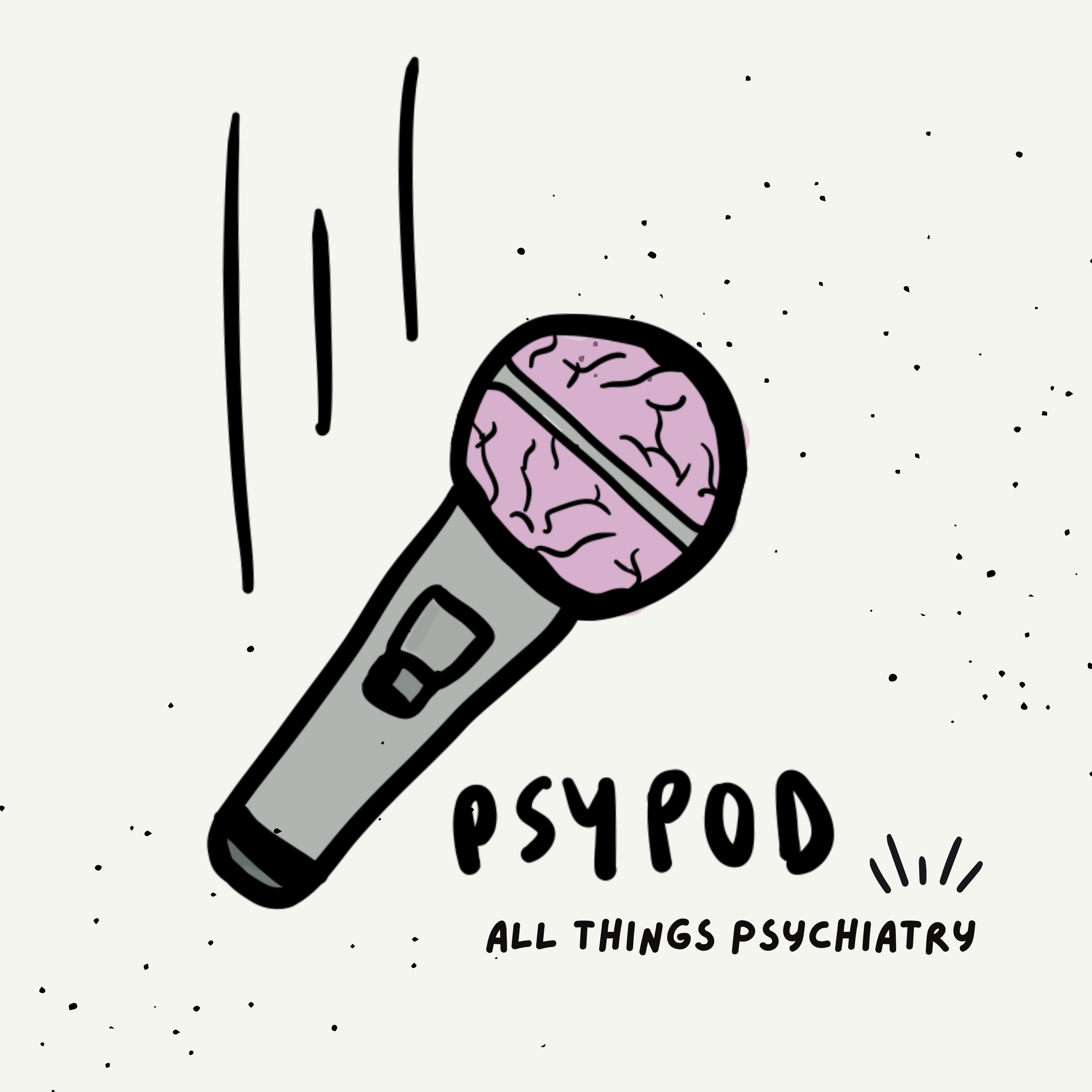 Join us on our journey as we take steps towards advocacy and increasing psychiatry exposure and awareness. 🩺🧠 Through discussions with some incredibly inspiring psychiatrists from different fields, we explore pressing issues pertaining to mental health and stigma and provide an insight into a day in the life and role of a psychiatrist. 👩🏼‍⚕️👨‍⚕️
---
For our first series, a series in conversation, we chat to some incredible psychiatrists who have so much to share, discussing career pathways, issues within mental health, stigma, life lessons and everything in between! 💬
Whether you're a student keen on psychiatry or anyone in our community interested in issues within these fields, join us and let's start the conversation. Let's learn about psychiatry, and challenge the stigma, and in doing so, let's learn more about issues that continue to remain invisible in our society to so many. 🙋
To find out more about some of our special guests joining us for this series, tune into our trailer for a sneak peek:

🔊 We would love to hear from you, so if you have any feedback, questions or comments please feel free to get into contact or use the form below! 🔊
https://forms.gle/1uqoTn5478BA9Vqb9
A special thanks to our lead sponsor, PIF, the Psychiatry Interest Forum who have helped us out! PsySOM has received Australian Government funding administered by the RANZCP under the Specialist Training Program. Check out PIF's incredible work here ! 💖💖
---
Episode 1: Rethink Addiction with Professor Dan Lubman 🩺
Join us as we unpack the world of addiction psychiatry, right from the role of an addiction psychiatrist to just how and why substance abuse has such a consequential impact on the lives of people in our community. We'll be exploring some tips and tricks on entering the psychiatry training program here in Australia and also addressing the stigma that continues to perpetuate. 💡
Substance abuse, misuse and addiction can have a profoundly damaging impact on individuals, families and communities. It is still to this day one of the most stigmatised health conditions in the world and largely misunderstood in our society. 🌫️

Resources from Prof. Lubman:
---
Episode 2: Unpacking Perinatal Psychiatry with Professor Anne Buist 🩺
"These women who had delayed getting treatment and we asked why… it was very clear that in their minds they were afraid that getting postnatal depression was equal to being a bad mother, and being diagnosed as depressed was bad, but being diagnosed as a bad mother was even worse…"
We're joined by an incredibly inspiring special guest, Prof. Anne Buist, a Professor of Women's Mental Health and practising psychiatrist who specialises in postpartum psychiatric illnesses. Having run mother-baby units for over 25 years and leading research responsible for providing recommendations that were accepted by the government regarding implementing screening for perinatal depression Australia-wide, Prof. Buist has truly led a genuine career of commitment and enthusiasm for her work.
Our insightful and thought-provoking conversation delves into perinatal mental illnesses, stigma, career paths, life lessons and a whole lot more! 🐣🐤

Resources from Prof. Buist:
---
Episode 3: Overruling Misconceptions in Forensic Psychiatry with Dr Danny Sullivan 🩺
Join us as we unpack the world of forensic psychiatry, breaking down the misconceptions and learning more about the roles, challenges and insights seen within the field! Forensic psychiatry is a subspeciality that engages with the intersection between law and psychiatry and involves diagnosing and treating mental disorders in the context of the criminal justice system. ⚖️
We're joined by Dr Danny Sullivan, a Melbourne and London-trained forensic psychiatrist who is currently the Executive Director of Clinical Services at Forensicare. Dr Sullivan provides us with an incredibly unique perspective into what a forensic psychiatrist does and how they support patients, and shares some of his extraordinary stories, experiences and advice from a career that has seen so much. This conversation covers plenty of domains and we really hope that you gain something to take away into your own life! 🌱

Resources from Dr Sullivan:
---
Episode 4: Breaking Barriers in Women's Mental Health with Professor Jayashri Kulkarni 🩺
Join us as we chat with an incredibly inspiring, internationally acknowledged leader within psychiatry, an individual who is pioneering changes to improve the quality of care for women with mental illnesses, Prof. Jayashri Kulkarni!
Having founded the Australian Consortium for Women's Mental Health, taking on the role as President of the International Association for Women's Mental Health, spearheading groundbreaking research into reproductive hormones and mental illness and receiving an Order of Australia (AM) in 2019 for her services to psychiatry (and a whole whole lot more), Prof. Kulkarni has an immense amount of experience and passion to share! ☀️
This conversation takes an authentic dive into the field of Women's Mental Health, breaking down the barriers and misconceptions, and exploring the roles, challenges and insights within the area! Prof. Kulkarni shares some of her inspiring stories, experiences and life advice from a career built on passion, dedication and hard work. 🌻
---
Episode 5: Exploring a Career in Psychiatry with Professor Malcolm Hopwood 🩺
Join us as we chat with an incredibly insightful, genuine and accomplished psychiatrist, Professor Malcolm Hopwood.
Currently holding positions of Professor of Psychiatry with Ramsay Health Care at the University of Melbourne, and Clinical Director of the Professorial Psychiatry Unit at the Albert Road Clinic, Prof. Hopwood provides us with a unique perspective into his long and established career. He talks us through some of his interests in the field (including a passion for learning about mood and anxiety disorders), his role in supporting patients, a word on COVID and the importance of research in psychiatry, being a leading researcher in Australia investigating psychopharmacology and clinical aspects of mood and anxiety disorders. 📑🌧️
Not to mention, having been the president of the RANZCP from 2015-2017, he has some profoundly important advice for entering the psychiatry training program here in Australia, and for anyone keen on pursuing psychiatry as a career! 🔭
---
Episode 6: Forging Change in Youth Mental Health with Professor Patrick McGorry AO 🩺
Join us as we chat with a genuinely inspiring and remarkable special guest, an individual who is forging change and revolutionising our approach to Youth Mental Health, Prof. Patrick McGorry!
His bio and accomplishments are way way too long to fit into this short description, but to highlight just a couple: Prof. McGorry is a Professor of Youth Mental Health at the University of Melbourne. He is the executive director of Orygen and has been responsible for leading the development and scaling up of early intervention and youth mental health services. Not to mention, he has extensive contributions to health system reform in Australia, having led the advocacy which resulted in the establishment of the National Youth Mental Health Foundation in 2005 by the Aus. Gov (becoming Headspace in 2006), including being selected as Australian of the Year in 2010! 🍊
Definitely check out his long list of achievements within his field online, a testament to what can be accomplished when you are willing to invest your time in things that you care about and work with others to achieve your mission!
Prof. McGorry has a wealth of experience and passion to share and this conversation takes a dive into this area within mental health, discussing the roles, challenges and insights from an incredible career. 📋✏️